*** Update — I've created a GoPro film to go with the story. Watch it here
Here comes my race report from the Tripp Trapp Triathlon, a successful solo multisport effort !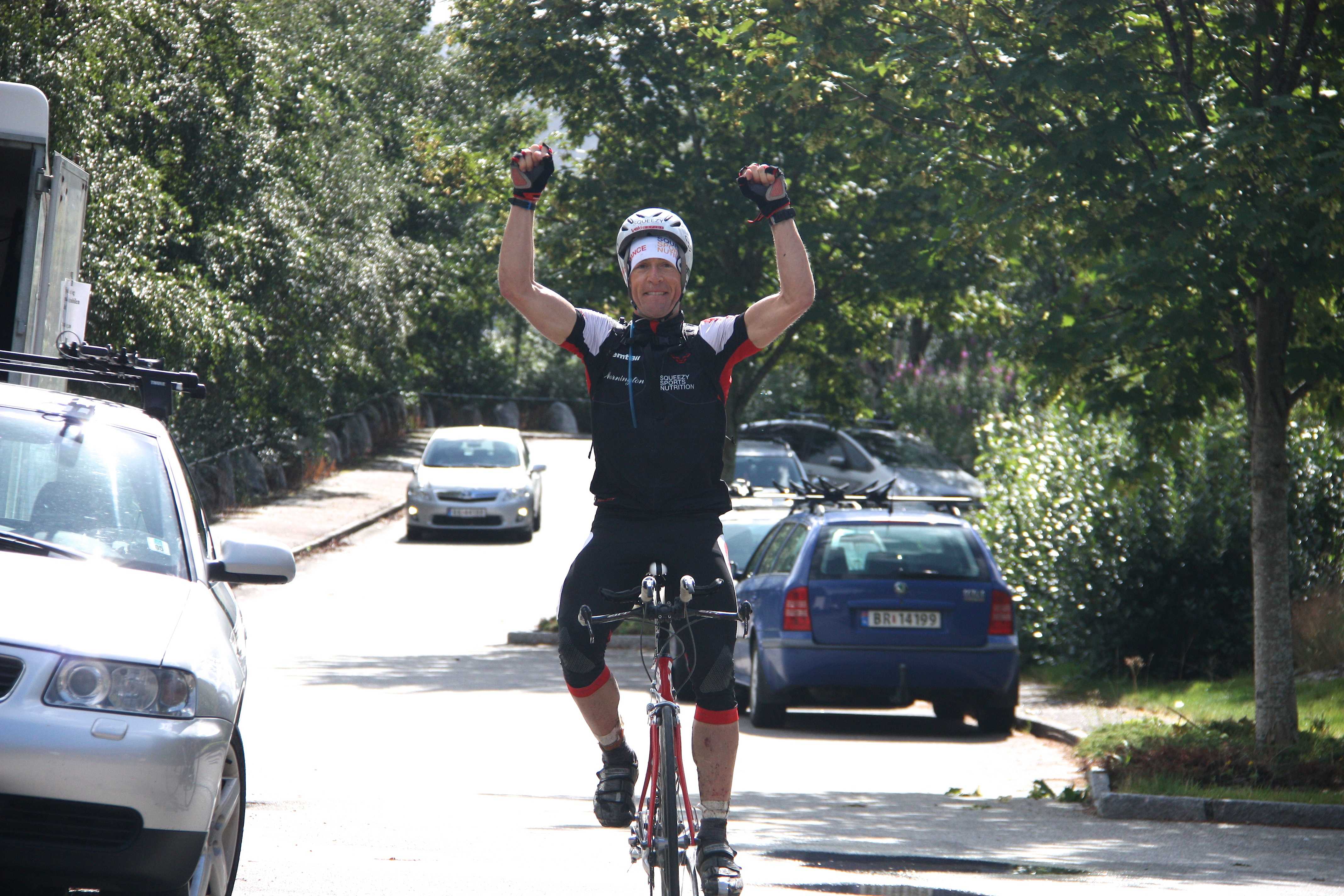 Victory salute after 4 hrs and 53 minutes of racing (Photo: Hans-Arvid Grødeland).
Why multisport hasn't taken off in Norway is beyond me. It's a country with challenging terrain and amazing scenery, and a people with a penchant for outdoor sports and love of competition. On a global level Norway is tiny — only 4 million people — but it has delivered a disproportionate number of Olympic and world-class athletes in cycling, paddling, running, and skiing. Norway is slightly behind Sweden on many things and perhaps it's just a question of time before Norway catches up — and passes (?!) — Sweden as a multisport nation. Watch out New Zealand …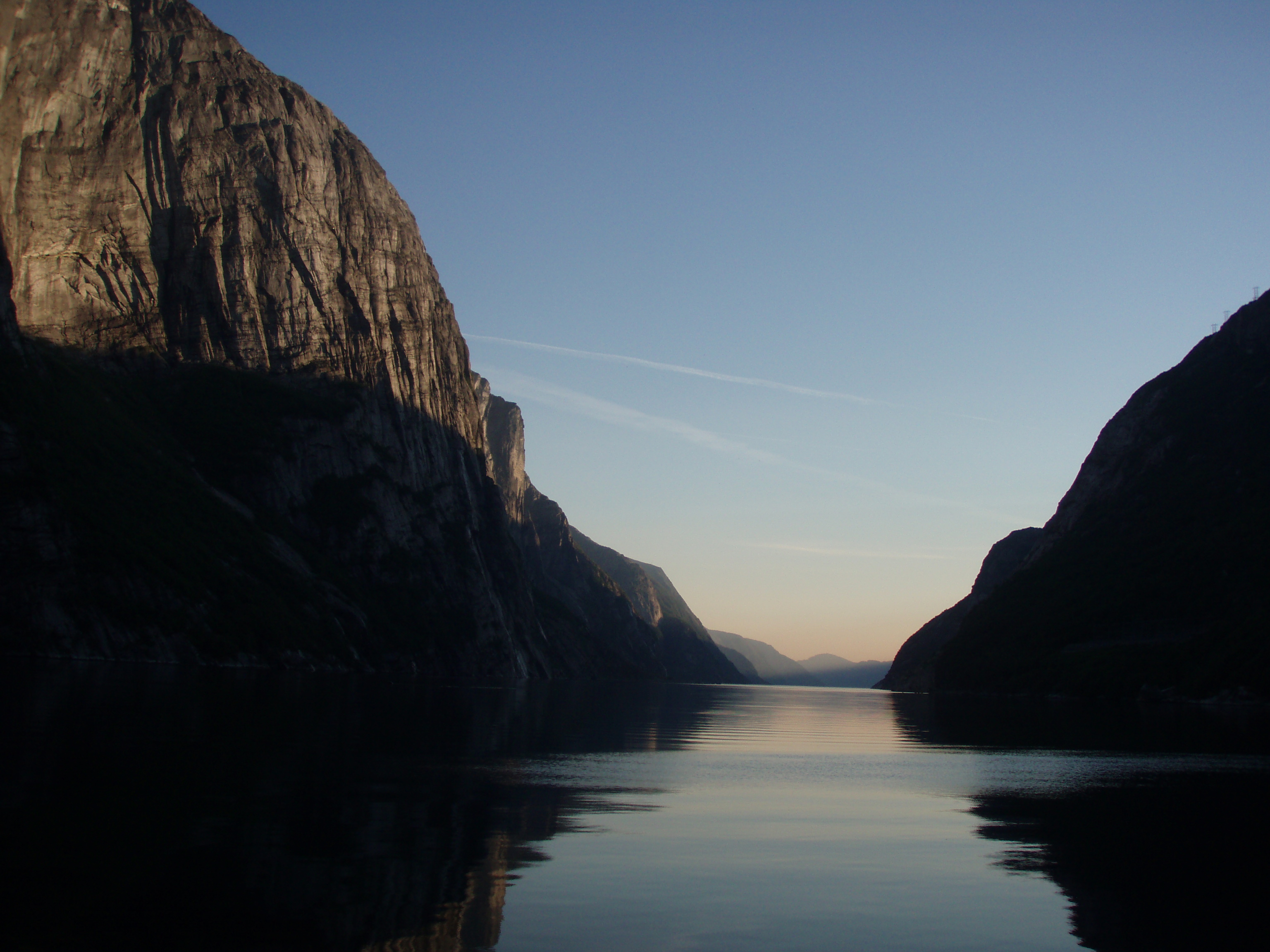 Lysefjord where we paddled at the start of the race
So I consider myself lucky to compete in a multisport race here in 2013 and not 2020 (!). I set a new course record for an annual race that dates back to 2002, but I know it won't hold for long (in fact the 2nd place guy has already stated on his blog that he's going under 4 hrs and 30 min next year). I may have awakened the sleeping giants of multisporters in Stavanger. If they start training for this race to knock me off next year, that would be great: it would raise the level of multisport in Norway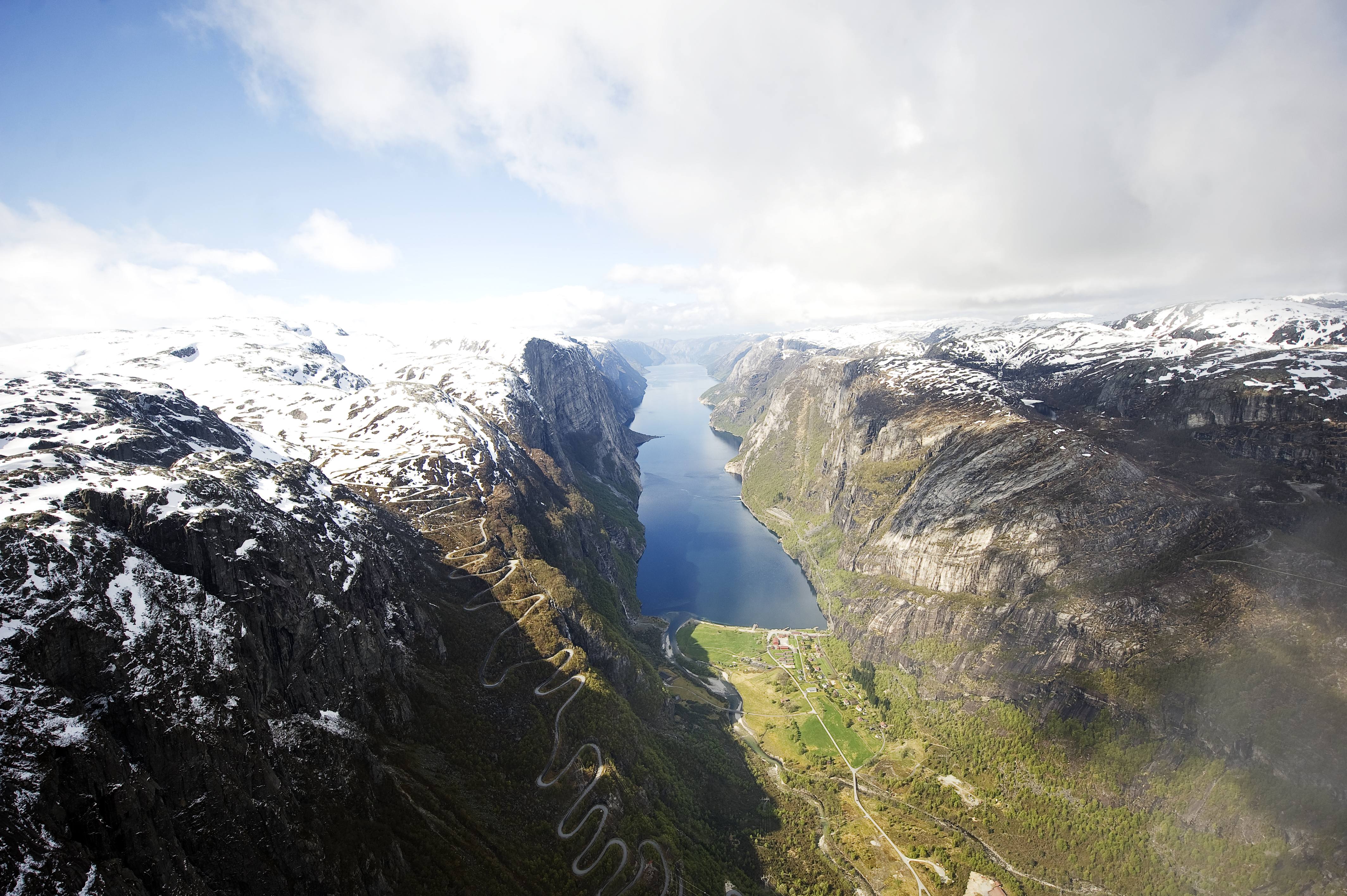 Lysefjord from above, looking out toward the ocean (and with a lot more snow than we had on race day

You can read about the Tripp Trapp Triathlon course in my previous blog, but in short: a 25 km paddle in the world-famous Lysefjord, a 700 m steep stair climb to the mountains, a 12 km mountain run, and a 30 km road bike.
The starting list was strong this year: Nils Olav Fjeldheim, an Olympic bronze medal K1 paddler from Athens in 2004; Gudmund Snilstveit, Norwegian's fastest Ironman finisher with a time of 8.38 in Ironman Arizona 2011; and the local favorite who knows the course like the back of his hand, Arnt Aasland (Arnt, together with Per Henriksen, are the brains behind the race. In 2002 their friends insisted they were crazy. Their proposed course was not only arduous, but inaccessible and nobody expected them to complete it in under 24 hours. But they did it in 12 hrs and this was before the days of surfskis, time trial bikes and well-beaten paths in the mountains). Arnt also managed to attract Hein van Rooyen to the starting line, a top South African surfski paddler and owner of Carbonology kayaks, together with a couple of top Norwegian paddlers: Tore Nilsen (Marathon World Cup Masters Rome 2012) and Arne Nilsen.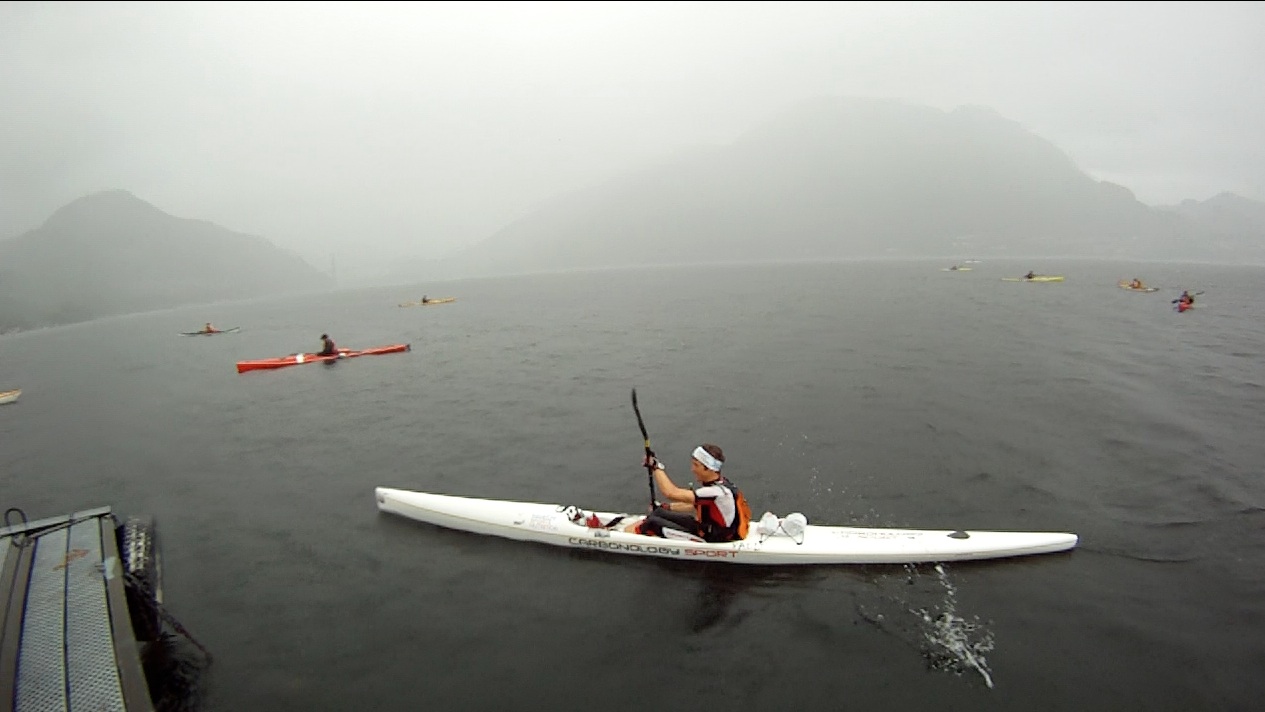 Warming up before the start with 2 hrs of food/water on my back (life jacket) and 2 hrs of food/water in my backpack strapped to the boat for the mountain run section. 
The start … Those of you who read my ÅEC race story will recognize this. I was drifting 15 meters behind Arnt, Hein, and Nils Olav (I was planning on drafting off them), but the starting gun caught everybody by surprise.  Since I missed that train, I had to quickly select another. I had to choose between the fast-looking surfski to my right and the one to my left. Lucky for me I choose the "right horse" as the surfski on the right pulled away hard and I rode his wake. Another paddler soon joined us in front and I sat in behind them in 6th place for the entire paddle section.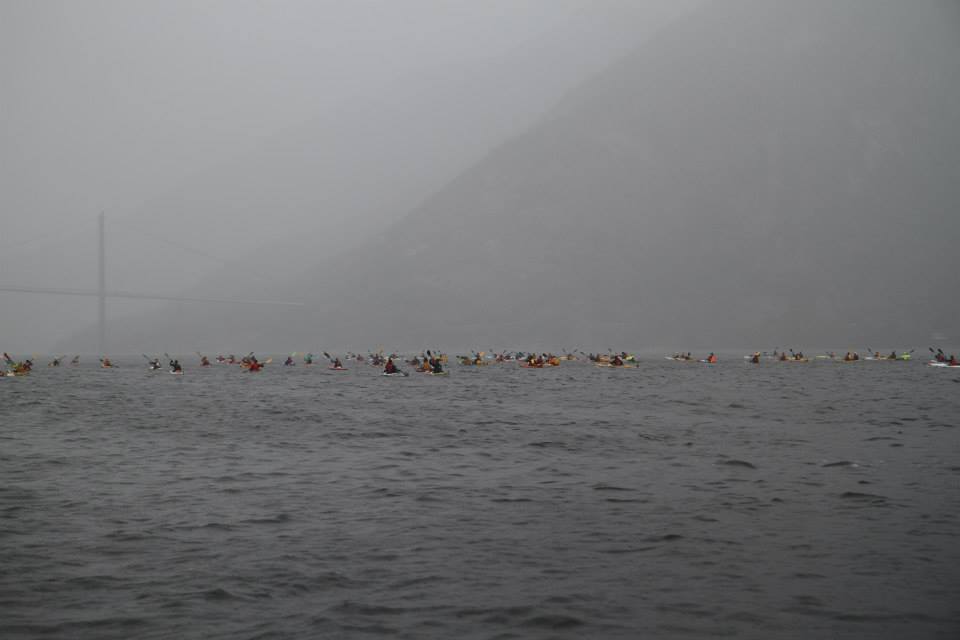 Race start: A fleet of 150 kayakers headed up Lysefjord into the fog and pouring rain. 
We averaged 12.0 kph for the first hour, which is pretty fast for me. But I found a rhythm and conserved energy, letting the others "break the water" ahead of me. I was anxiously watching the three lead paddlers disappear into the fog ahead of us — how much of a lead could I spot them and still catch them on the run? How much patience should I have? The classic multisport question …
After an hour my patience ran out. I paddled out to the middle of the fjord to try and catch the tailwind and waves. But the tactic didn't work. Even though my group of two kayakers were hugging the coastline and paddling in the flat water with no tail wind, they were holding a higher average speed. Did they know something I didn't know?
It turns out they did. I failed to look up the tide schedule and it was flowing out of the fjord (against us) at the same time that the wind was blowing with us. Hein told me later that combination generates higher waves that look "surf-able" but in fact slow you down. But I didn't know that and struggled to surf past those two kayakers for 30 minutes. Finally I gave up. By then I had lost them and no longer had them to "pull me along."  I arrived at the transition about a minute or so behind (I found out later I was 6 min 30 sec behind the fastest paddlers in front).
I jumped out of the kayak, threw off my life jacket, put on my backpack for the run and headed for the 4,444 stairs.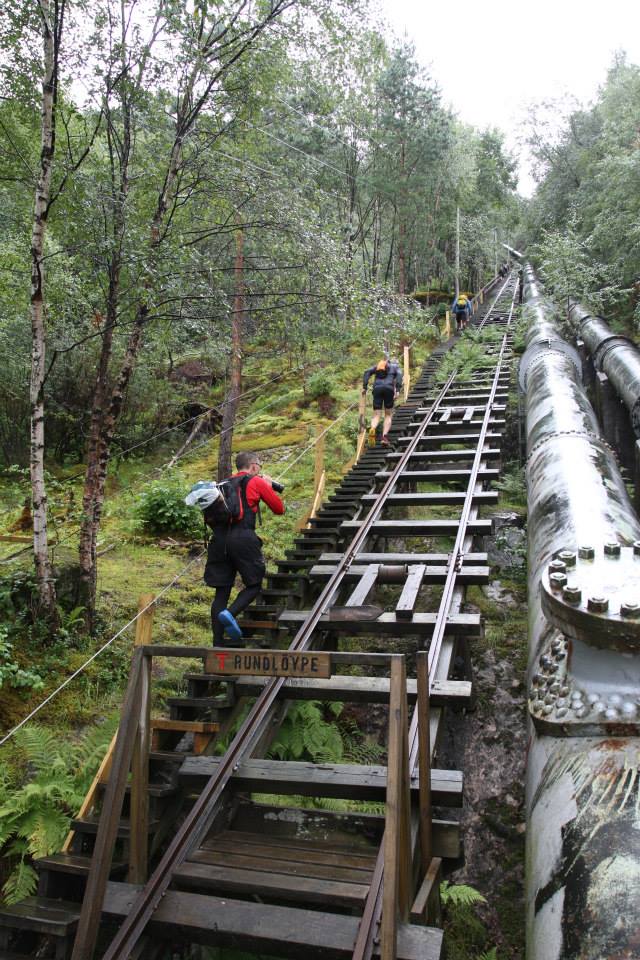 Several racers ascending the first 500 stairs.
To my amazement, the two paddlers in front of me stopped to change into a dry shirt before starting up the stairs (Norwegians have a lot to learn about multisport …). I ascended the stairs in 4th place and within 5 minutes had caught up to 3rd and 2nd place — Arnt and Hein. They both cheered me on and stepped to the side of the steep stairs and let me by. At the top of the stairs 20 minutes later I had caught the leader Nils Olav, but Arnt had warned me that besides being an Olympic paddler he was also a strong mountain runner.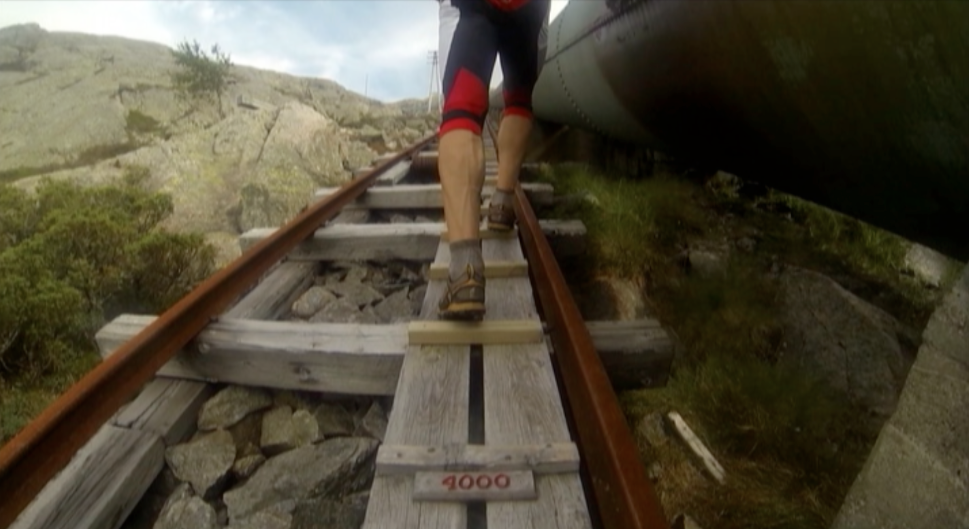 That sign tells me I've only got 444 stairs left — almost there !
Nils Olav and I started the slippery and technical descent together in the pouring rain. We both took it easy to get our balance back after the 30+ minutes of mind-numbing stair climbing. What was barely recognizable as a trail was now a roaring creek and the footing was very unstable. Five minutes later we crossed the gravel road and started the long "off trail" section across the swampy and rocky terrain.
I immediately thought of Anders Kleist's blog, which I had read during the week. Anders had won the AXA Fjällmarathon the week before (setting a new course record) and had written the following:
"It's always dangerous to wait too long to make a decisive move" (Alltid farligt att vänta med att avgöra.)
If I was going to win this, I had to take a risk now.  I didn't want to give my competitor hope. So I picked up the tempo to a dangerously hard and unsustainable pace, hoping to fool him into thinking I was capable of holding this pace for the next 90 minutes. My bluff worked. He slowed down and I pulled away.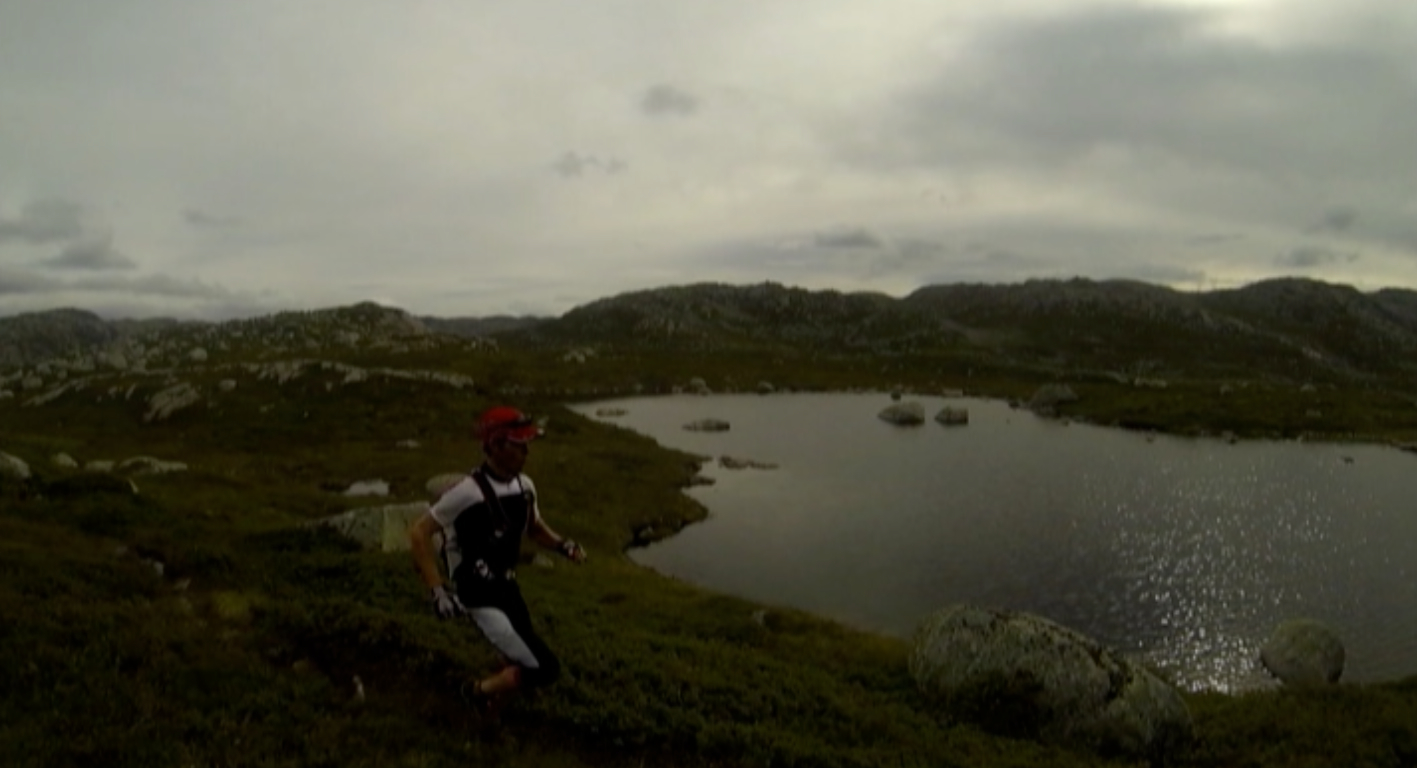 Running the open mountain terrain
With a safe margin, I downshifted and found a comfortable pace through the pouring rain and headwind, hopping over rocks and taking an energy gel every 20 minutes. I felt strong, my running legs were in great shape after lots of mountain running in Sweden in July and August.  Eventually the rain stopped and the trail headed downhill to the TA. I found a flow and rhythm that told me I must be increasing my lead … but in reality, I had no idea. I didn't have any information on "back times."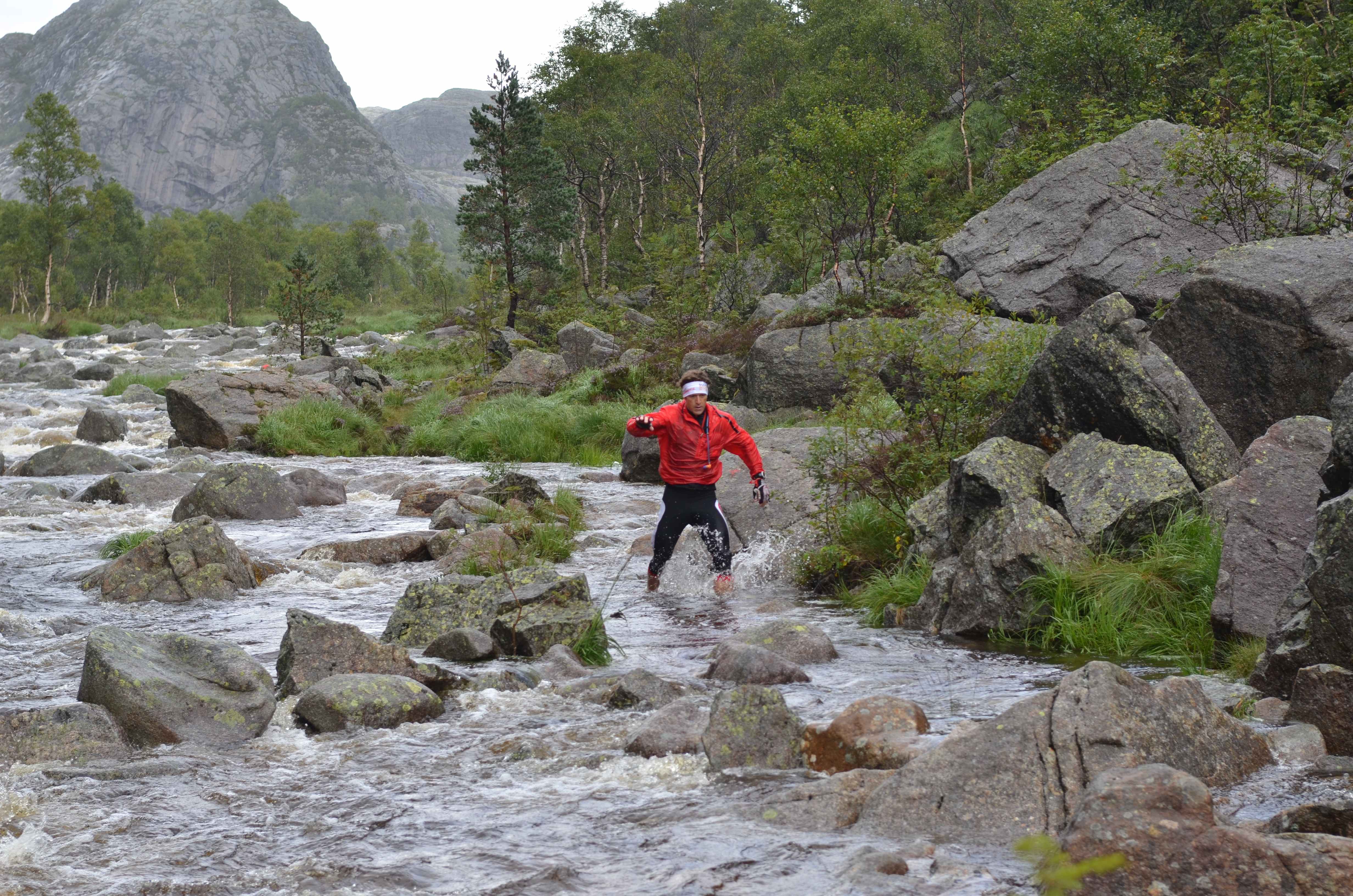 This picture was taken just 10 minutes before reaching the bike transition. Believe it or not I'm running on the trail, which parallels the creek (you can see an indication of the trail in the grass behind me), but the creek had swelled so that the trail had been overrun by the creek !  (Photo: Ole og Jarand Aasvold).
I ran in to the transition and Kalle and I had perfect silent communication. We didn't have to say anything because we had rehearsed exactly what we were going to do the night before. Besides an un-cooperative Velcro strap on my bike shoe, everything went seamlessly and I headed down the gravel road on my time trial bike, praying I could make it to the asphalt 1 km ahead without getting a flat tire.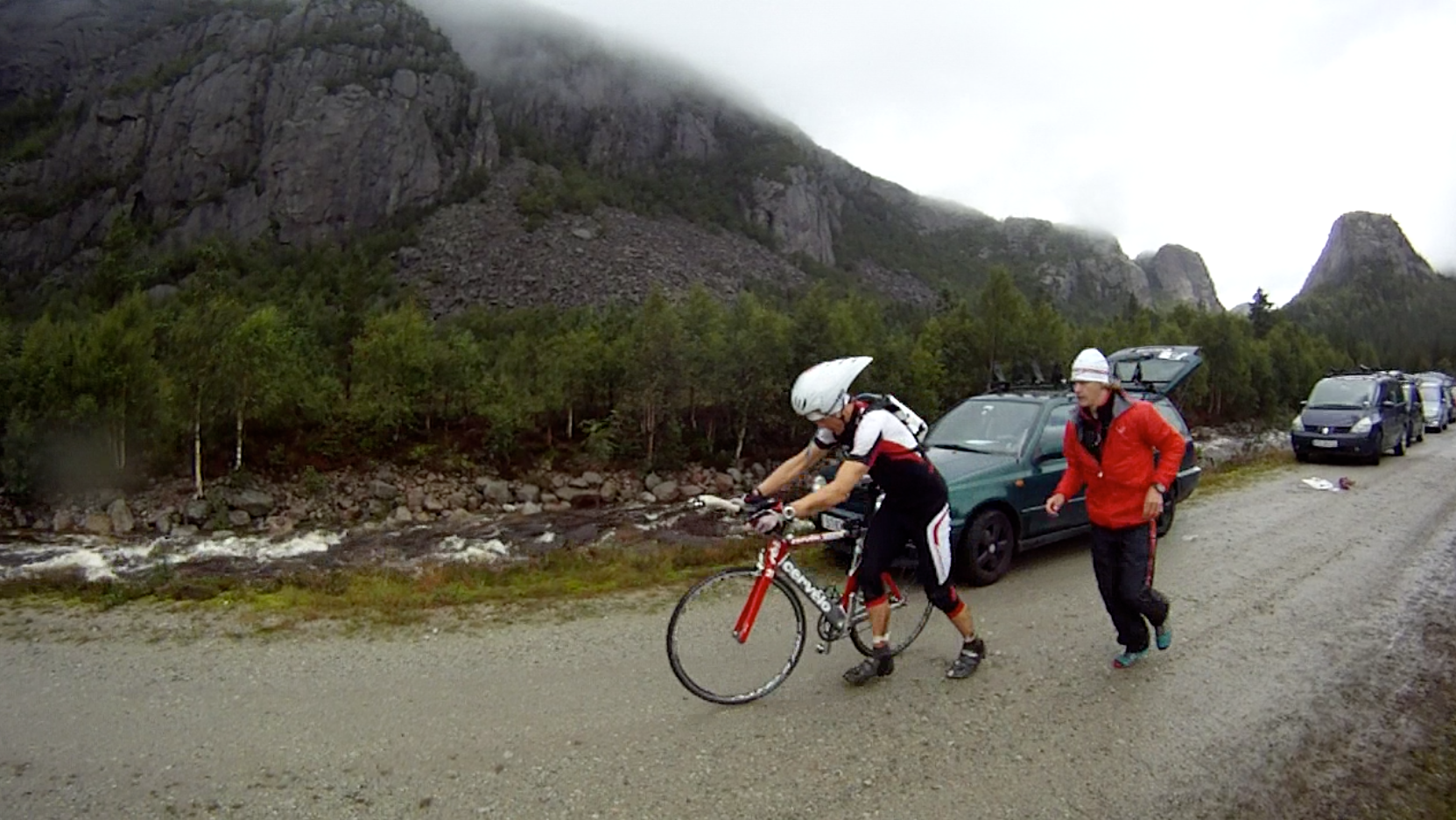 A quick change of shoes and off on the bike…
Kalle and Hans-Arvid Grødeland (my photographer) waited at the transition to see how long it was before the next guy came out of the woods. They waited for five minutes before Nils Olav arrived and then raced ahead in the car to give me the information.  Five minutes was nice to hear, but far from comforting.   I suspected that just behind Nils Olav would be Gudmund, the Ironman racer who had the potential to deliver a phenomenal bike time and steal this race back from me. I drank, ate, and took some more Crampfix salt tablets. I needed to be steady until the end.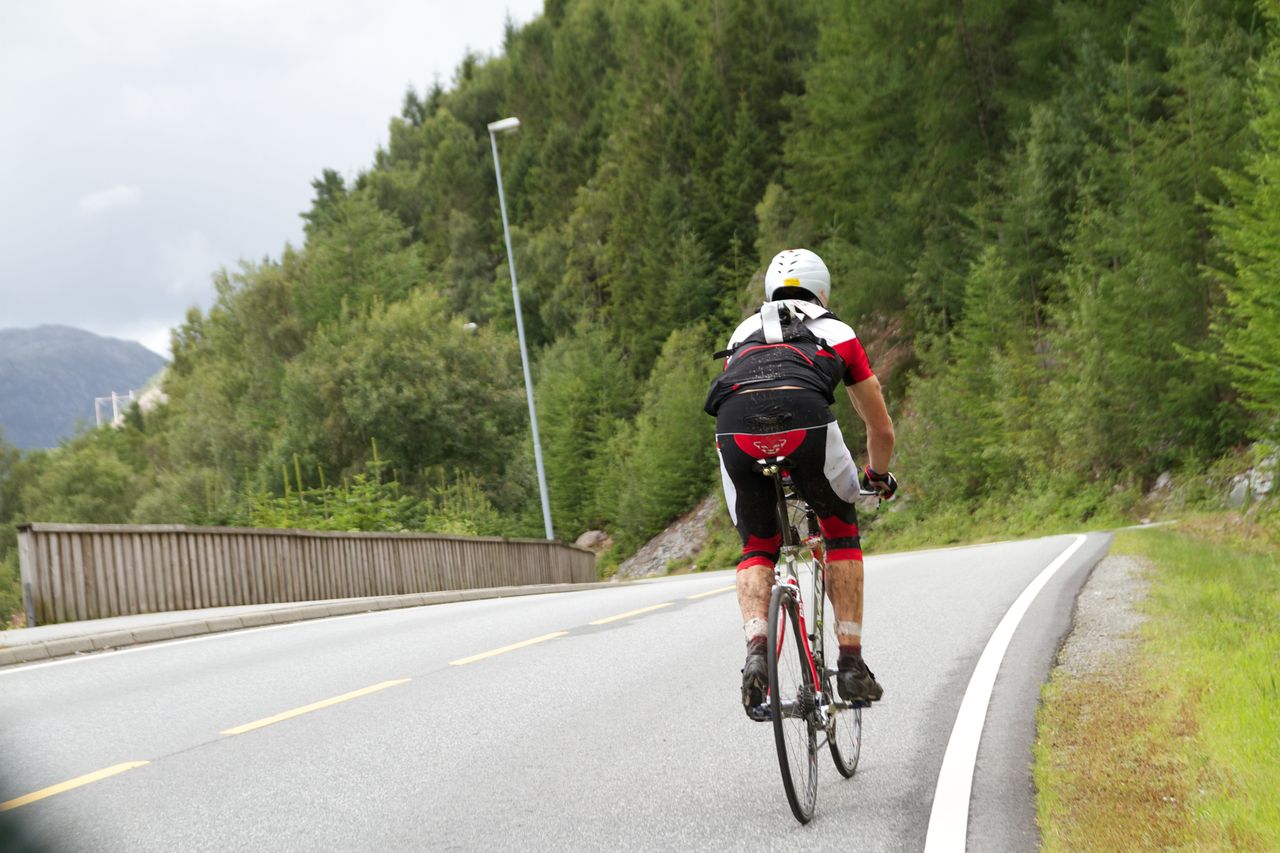 Pounding away on the pavement, with empty gel wrappers bulging out of my pocket on my right thigh (Photo: Hans-Arvid Grødeland).
When I hit the uphill section my legs were really getting heavy, but it was now or never. If I could deliver a hard 5-minute climb now I would keep my lead and most likely hold on. I pushed with all I had …
With 15 minutes left to the finish, Kalle caught up to me again in the car and gave me the back time at the bottom of the hill: it was now 7 minutes.  The most glorious thing I heard all day …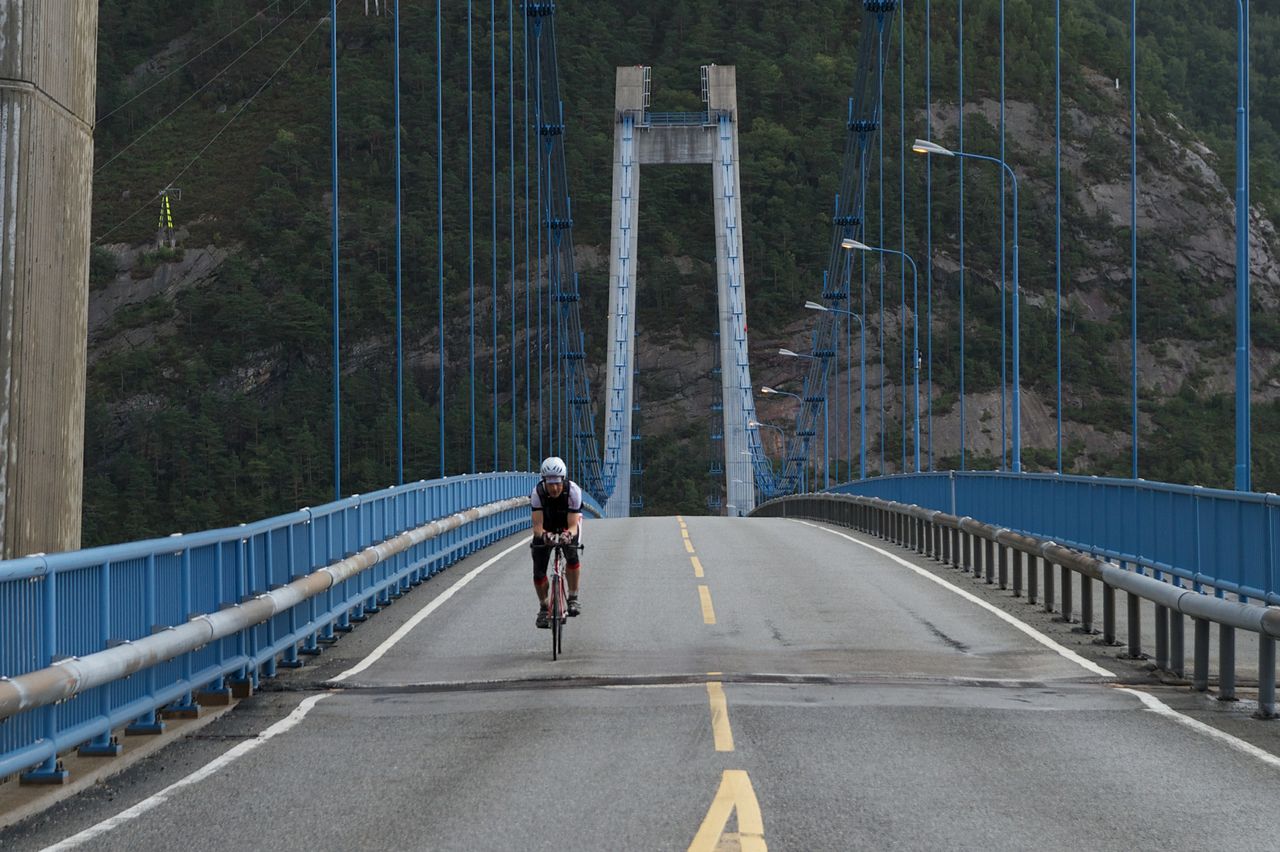 Cycling over the bridge we had paddled under 5 hours earlier  (Photo: Hans-Arvid Grødeland).
I spun over the bridge and — for the first time all day — enjoyed the beautiful scenery of Lysefjord. To top it off, Mother Nature cooperated and the sun was shining, lighting up the waterfalls all the way down the fjord.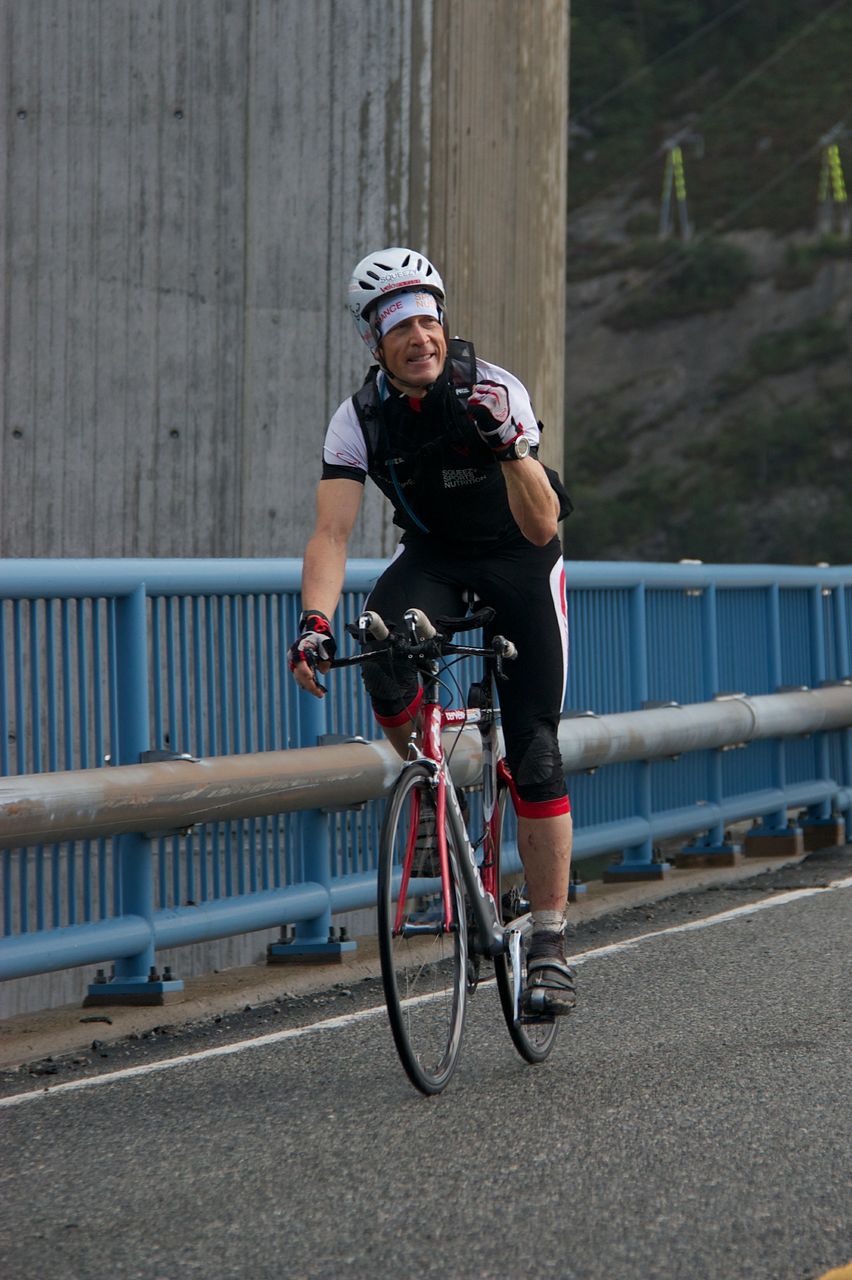 With 5 minutes to go I relaxed and had some fun

  (Photo: Hans-Arvid Grødeland).
I looked at my watch. I was well under the previous course record of 5 hrs and 2 min. There was only one thing left to do — hammer the last descent to the finish !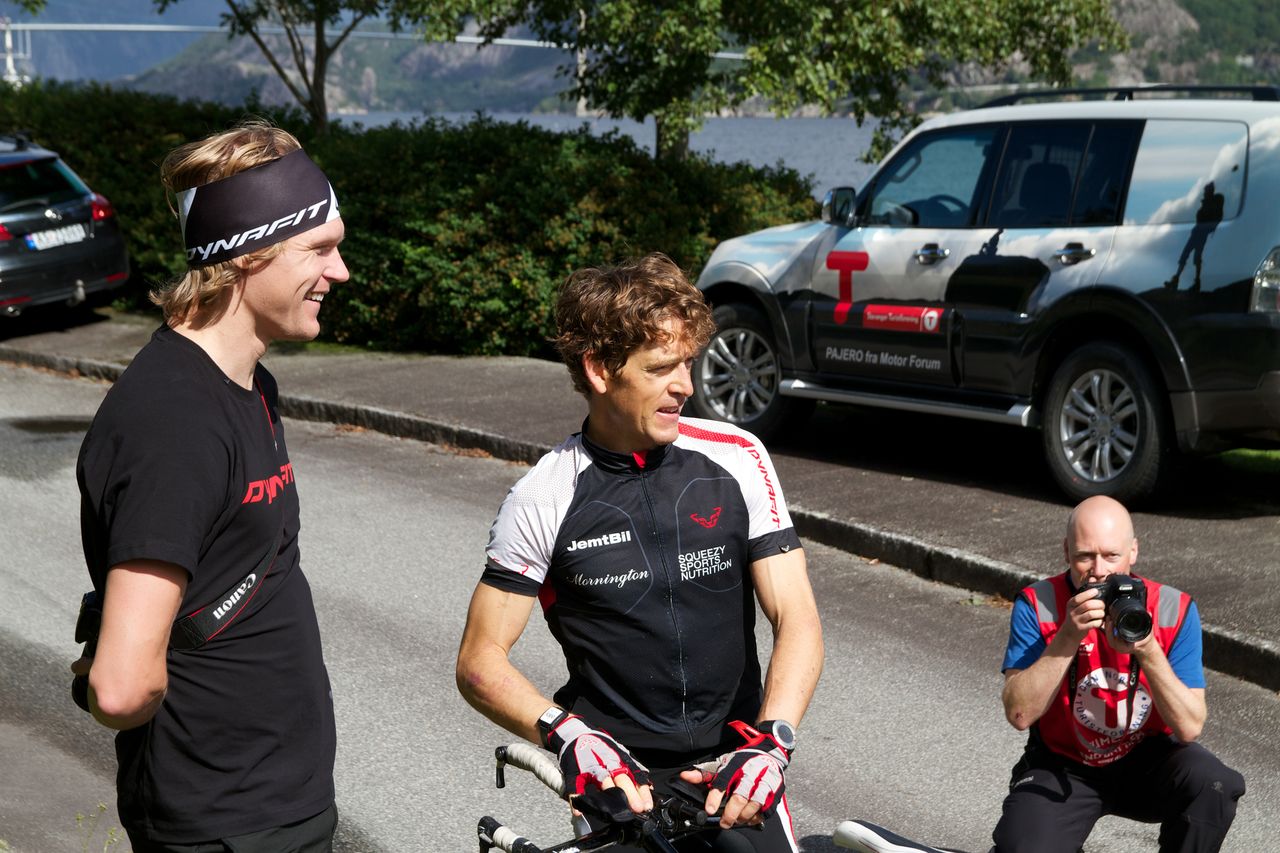 Enjoying some post-race chat with my support crew Kalle Simm (on the left)  (Photo: Hans-Arvid Grødeland).
I had an amazing experience and hope to return next year to defend my title.  I want to thank several people ….
–   Kalle Simm, who not only gave me great support before and during the race, but even gave up his bed and slept on the couch so I could be well-rested for the race !  I also want to thank his girlfriend for letting me have him for 4 days in a row — thanks Maria

– Hans Arvid, my photographer who jumped in at the last minute and did a great job balancing a camera and screaming out back times from the car during the bike leg.
– Arnt and Hein for their support in getting me a surfski. Without Arnt's help I wouldn't have been able to challenge his course record

–   Ann Kristin Kro from the Stavanger Tourist Office for helping an international competitor.
– To all the competitors — many of whom I never had a chance to meet. Thanks for coming out and challenging yourself on a rainy day.  Bring your friends next year !
Finally, thanks to all my sponsors who have helped me get to where I am — scroll down just a bit to see who they are.
Next up: Leaving for China in 8 days, where I will be competing in three different multisport stage races involving running, biking, and paddling. Subscribe to my blog to follow the action (envelope link on upper right).
I'll be putting together a GoPro movie from the Tripp Trapp Triathlon later this week … come back in a few days
Train hard
Scott Cole
Full results here … http://live.quicktiming.no/Main?eventUID=3610